<![if !vml]>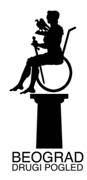 <![endif]>    <![if !vml]>
<![endif]>
Drugi pogled / Javni radovi
Another Gaze / Public Works
4-12. septembar / September 4-12
Kalemegdanska tvrđava
Kalemegdan Fortress, Belgrade
Otvaranje / Opening
4. septembar 2010. godine u 17 / September 4 at 5pm
Plato ispred Zavoda za zaštitu spomenika u 17h
Umetnici / Artists
Michele Dantini, Kinkaleri, Lorenzo Pezzatini, Elisa Biagini, Dejan Atanacković
Curated by / Koncept izložbe
Dejan Atanacković & Zoran Erić
Production / Realizacija
Centar za međunarodne umetničke studije / Center for International Studies of Art
Muzej savremene umetnosti / Museum of Contemporary Art in Belgrade
Support / Podrška:
Telenor Fondacija / Telenor Foundation, Grad Beograd / Belgrade Municipality
Collaboration / Saradnja:
Turistička organizacija Beograda / Tourist Organization of Belgrade , Kalemegdanska tvrđava, Zavod za zaštitu spomenika, Vojni muzej / Military Museum, Gradsko zelenilo, Udruženje građana ''Živeti uspravno'', Etnografski muzej / Ethnographic Museum, Omladinski klub MSUB.
O projektu
Izložbom pod nazivom Javni radovi, u okviru projekata "Beograd: Drugi pogled" i "Outside", predstavljeni su autori Mikele Dantini, Lorenzo Pecatini, grupa Kinkaleri, Eliza Bjađini i Dejan Atanacković. Instalacije osmišljene za prostor Kalemegdana, parka i tvrđave, planirane su kao privremena izmena funkcije mesta - prostori za dijalog. Nastaju namenski, kao narativni povod za aktivnost alternativnih vodiča - osoba sa invaliditetom i pripadnika manjina, koji svojim vođenjem po Kalemegdanu dopunjuju i dovršavaju rad i time realizuju svojevrsnu interakciju sa umetnicima i publikom. Postavkom na Kalemegdanu obeležava se početak ovogodišnjih javnih nastupa alternativnih vodiča Beograda u okviru projekta "Beograd: Drugi pogled".
"Beograd: Drugi pogled" posvećen je tumačenju grada kroz perspektivu marginalizovanih grupa. Realizuje se obukom, angažmanom i promocijom nove
kategorije u turizmu i inkluziji, pod nazivom alternativni vodič. Projekat okuplja predavače iz oblasti umetnosti, istorije, teatra, arhitekture i muzeologije, a ovogodišnja obuka alternativnih vodiča realizovana je u vidu višemesečne radionice uz učešće Irine Subotić, Marka Stojanovića, Zorana Erića, Ljubice Beljanski Ristić, Vladana Jeremića i Milana Prodanovića.
Outside- projekat studentske i stručne razmene u sferi umetničkog obrazovanja između Firence i Beograda, realizuje se od 2005. godine prema protokolu o saradnji između dva grada. U programima razmene učestvovalo je više od 300 studenata i predavača umetničkih fakulteta iz Srbije, Italije, SAD i Holandije, a kao deo projekta predstavljene su brojne izložbe gostujućih umetnika, među kojima Robert Gligorov, Virđilio Sieni, Kinkaleri, Edoardo Malađiđi, Next Question…
About the project
The exhibition entitled Public Works, as part of the projects Belgrade: Another Gaze and Outside, will present works by artists Michele Dantini, Lorenzo Pezzatini, Kinkaleri, Elisa Biagini and Dejan Atanacković. The installations conceived for the space of Kalemegdan, park and fortress, were planned as a temporary shift in the function of the place: towards a space for a dialogue. The works were created with a purpose to offer a narrative occasion for the activity of alternative guides – persons with disability and members of minority groups – who supplement and complete the work itself by guiding the visitors through the exhibition, and thus interact with artists and viewers. This exhibit at the Kalemegdan marks this year's public appearence of Belgrade's alternative guides within the project Belgrade: Another Gaze.
Belgrade: Another Gaze is intended to the interpretation of the city through a perspective of the marginalized groups. It is carried out through training, engagement and promotion of the new category in tourism and inclusion, under the title – the alternative guide. The project gathers lecturers from the areas of art, history of art, theatre, architecture and museology, and this year's training of alternative guides is realized as a few months long workshop with the participation of Irina Subotić, Marko Stojanović, Zoran Erić, Ljubica Beljanski Ristić, Vladan Jeremić and Milan Prodanović.
Outside – the project of students and experts exchange in art education between Florence and Belgrade is being carried out since 2005, according to the protocol on cooperation between the two cities. More than 300 students and lecturers from art universities in Serbia, Italy, USA and Holland participated in these exchange programs. As part of the Outside numerous exhibitions of guest artists were held, including Robert Gligorov, Virgilio Sieni, Kinkaleri, Edoardo Malagigi and Next Question.